RRB NTPC Exam Date:  Railway Recruitment Board (RRB) will conduct the recruitment exams for non-technical popular categories (NTPC), level -1 post and isolated & ministerial category under CEN 01/2019 from December 28, 2020.
RRB NTPC Exam Date: Railways to conduct NTPC CBT-1 exam from December 28
RRB NTPC Recruitment 2019: The Railway Recruitment Board (RRB) will conduct Computer based Tests (CBT) for recruitment in non-technical popular categories (NTPC), level -1 posts and isolated and ministerial category under CEN 01/2019 from 28th December 2020. The detailed exam schedule for RRB NTPC 2020 Stage I Exam has been released on 1st December 2020. According to the officials, the Railway board is likely to conduct the NTPC recruitment exam from December 28, 2020 to March 2021. All candidates who have registered themself for this exam were eagerly waiting for the exam dates of RRB NTPC.
| | |
| --- | --- |
| Exam Name | Exam Date |
| RRB NTPC 2019 (CEN 01/2019) | December 28, 2020 to March 2021 |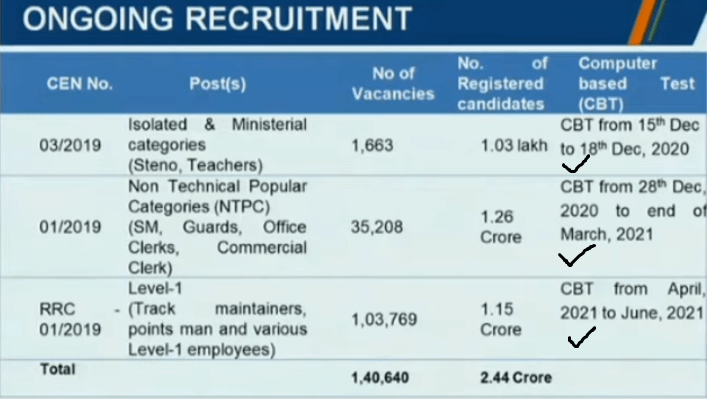 Let's have a look at the important dates for RRB NTPC 2020 Exam.
RRB NTPC 2020: Important Dates

Events
Dates
RRB NTPC Notification Release Date
28th February 2019
Start Date To Apply Online for RRB NTPC
01st March 2019
Last Date To Apply Online
31st March 2019
Closing Date & Time for Payment of Application Fee
05.04.2019 at 23.59 hrs
Final submission of Applications
12.04.2019 at 23.59 hrs.
RRB NTPC Application Status
September 21, 2020
RRB NTPC Stage-1 Admit Card
December 24, 2020
RRB NTPC Exam Dates
December 28, 2020 to March 2021
According to old Information railway minister Piyush Goyal twitted In the video, CEO and chairman of RRB, VK Yadav announced the date and said, "A total of 1 lakh, 40 thousand and 640 vacancies were notified for RRB NTPC, isolated and ministerial category and level -1 posts in the year 2019, for which around 2 crore applications were received. The online application was invited between March 1 and 31, 2019. We had completed the scrutiny of applications but could not conduct the exam because of the Coronavirus pandemic. The exams for all three categories will be held from December 15. The full schedule for the examination will be released soon."
The CEN 01/ 2019 recruitment notification for 1.4 lakh vacancies was released on February 23, 2019. There are over 1 lakh vacancies for RRB level-1 posts while the rest 35, 277 posts under NTPC category posts are of paramedical staff, non-technical popular categories (NTPC), ministerial and isolated categories.
RRB NTPC EXAM GUIDELINES
Candidates may have to wear face masks considering COVID-19 guidelines. Railways are facing a challenging task of tackling impersonation; mass gathering at exam centres, sanitation of exam centres after each shift among others. Number of candidates to be booked in an exam centre may have to be cut down to enable more social distance between two candidates while enforcing the norms required for fair and smooth conduct of examination of this magnitude.
Earlier, Railways successfully concluded, what can it called as one of the world's largest recruitment exercise, for filling up critical safety and operational posts and has reached its completion stage. Railway Recruitment Boards (RRBs) invited online applications against Centralized Employment Notification (CEN) No. 01/2018 from 03.02.2018 to 31.03.2018 for a total 64,371 combined vacancies of Assistant Loco Pilots (ALPs) & Technicians. A total of 47,45,176 online applications were received. The scheme of selection consisted of 3 -stages computer based tests followed by medical examination (which is one of the stringent medical examinations considering the level of distant vision/colour vision and alertness required from a Loco Pilot) and document verification of shortlisted candidates. About 47.45 lakhs candidates registered for these posts.
RRB NTPC 2020 Official Notification
Railway Board had released Official Notification for RRB NTPC Recruitment 2019-2020 exam on 28th February 2019. Through this recruitment process, RRB will recruit 35,208 vacancies for the posts of NTPC (Non-Technical Popular Categories). Candidates who have minimum Educational Qualification of 12th (+2 Stage) or its equivalent examination and looking for a government job in Indian Railway can appear in the Railway NTPC 2020 Recruitment Exam.
View Railway NTPC 2019-20 Official Notification [Download PDF]
RRB NTPC Salary: After 7th Pay Commission
Here, we have provided the Pay Level, Initial Payment and Vacancies of all the Under-graduate and Graduate posts under NTPC as per 7th CPC Pay Matrix.
RRB NTPC Undergraduate Posts Pay Scale after 7th Pay Commission and 2019 Vacancies
Name of the post
Level in 7th CPC
Initial Pay (Rs.)
Total Vacancies (All RRBs)
Junior Clerk cum Typist
2
19900
4300
Accounts Clerk cum Typist
2
19900
760
Junior Time Keeper
2
19900
11
Train Clerk
2
19900
592
Commercial cum Ticket Clerk
3
21700
4940
Total Undergraduate Vacancies
10603
RRB NTPC Graduate Posts Pay Scale after 7th Pay Commission and 2019 Vacancies
Name of the post
Level in 7th CPC
Initial Pay (Rs.)
Total Vacancies
Traffic Assistant
4
25500
88
Goods Guard
5
29200
5748
Senior Commercial cum Ticket Clerk
5
29200
5638
Senior Clerk cum Typist
5
29200
2854
Junior Account Assistant cum Typist
5
29200
3147
Senior Time Keeper
5
29200
6
Commercial Apprentice
6
35400
259
Station Master
6
35400
6865
Total Post Graduate Vacancies
24605
Grand Total (Graduate, Under Graduate and Visually Impaired candidates)
35208
View Here detail about RRB NTPC Salary, Promotion & Career Growth